Print
Children Wash Cars for Brick by Brick
In the true spirit of philanthropy, more than 20 children ranging in age from two to eighteen washed over 30 cars after the Groundbreaking on Saturday, August 30 to raise money to donate to the Brick by Brick fundraiser of George Wythe University.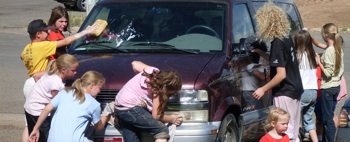 Their hard work and entrepreneurial efforts resulted in more than the $300 needed for a personalized brick, which they donated in its entirety to help build the campus where many of them will study and prepare to be statesmen. Not only did they make some cars sparkle and shine while having lots of fun in the process, each of them has also become a lasting part of the GWU Monticello campus! Their brick will have an honored location on the first building of the Monticello campus for generations to come: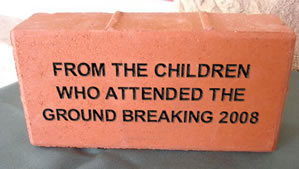 George Wythe University extends a special "thank you" to Laura Bledsoe for her inspired idea, to Diann Jeppson for her seasoned leadership abilities, to the many parents who delayed a long drive home, and especially to the children for their hard work and sacrifice! Than you for helping us build George Wythe University… Brick by Brick!
Taryn Thomas, Cedar City, Utah
Alaina and Sariah Mitchell, Monticello, Utah
Julia and Lark Milius, Rexburg, Idaho
Eliza DeMille, Cedar City, Utah
Anna DeMille, Monticello, Utah
Rebecca, Benjamin, Jacob, Jessica, and Sarah Fincher, Orem, Utah
Elijah, Bethany, and Mattia Allen, Provo, Utah
Ginnie Brooks, Monticello, Utah
Sara Patterson, Cedar City, Utah
Dolly, Wendy, and Julie Free, Enoch, Utah
Laura and Joseph Earl, Monticello, Utah
Nicole Oliver, Cedar City, Utah
For more information on the George Wythe University campus development efforts, click here.
Print