Print

The Life of Calvin Coolidge
In our age of Progressivism run amuck and unbridled, it has become commonplace among many Americans to yearn for the statesmen of the founding period, or perhaps to the century that followed. For such inspiration, it is rare for principled conservatives to look more recently, and perhaps justifiably so.
Yet one president does stand in a forgotten chapter of the early Twentieth Century as a principled model for our consideration. To foreshadow the highly anticipated biography by Amity Shlaes on Calvin Coolidge (to be published February 2013) we invite you to enjoy the second half of a stirring examination of Coolidge's character and life by a cherished member of the George Wythe University faculty, Dr. Michael Platt. Read Part I here.

Part II
by Michael Platt, PhD
V. Why did Mr. Coolidge not choose to run for the presidency in 1928? In his Autobiography he devotes a whole chapter to this question. He says it would be too bad if the good of the country depended on one man. The man who lives in the White House is tempted to think himself more important than he is. The office attracts flatterers. But the main reason, Coolidge is silent about, and yet it is revealed. Coolidge says that "The Presidential office takes a heavy toll of those who occupy it and those who are dear to them." Who was dear to Calvin Coolidge? His wife, Grace, without a doubt. And his children, no question. Indeed, in an earlier chapter,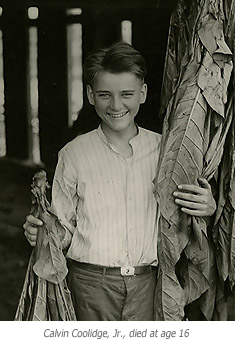 Coolidge tells about the son of his who died from a slight accident right on the south lawn of the White House. Coolidge tells us young Calvin "had a remarkable insight into things. The day I became President he had just started to work in a tobacco field. When one of his fellow laborers said to him, 'If my father was President I would not work in a tobacco field,' Calvin replied, 'If my father were your father, you would.' " That son not only understood America the way his father did but expressed his understanding with the family brevity. Coolidge's mere retelling of the story tells us how pleased he was with his son.

Yet the boy died, and his death tested the faith of his father. "In his suffering he was asking me to make him well. I could not," Coolidge reports with terrible simplicity. From others we learn that Coolidge caught a rabbit on the White House grounds and brought it to his boy, and that he held him in his arms as he died. Coolidge hated waste and here was waste of the most precious. "It seemed to me that the world had need of the work that it was probable he could do." The death of such a boy questioned all Coolidge lived by, every thing he had seen in Plymouth Notch, all he learned to reason about at Amherst under Garman, and all he thought he had proven in his own life. Why should the Lord take a boy so disposed to serve Him? There was no answer. "When he went the power and the glory of the Presidency went with him." Why does Coolidge write power and glory? Does he mean that the power of the Presidency went because power went from the President? It seems so. (And yet Coolidge did faithfully execute the Office of the President and preserve, protect and defend the Constitution.)

Then Coolidge adds one more thought. "I do not know why such a price was exacted for occupying the White House." Sheltered in this sentence is a question: Why was such a price exacted for my occupying the White House?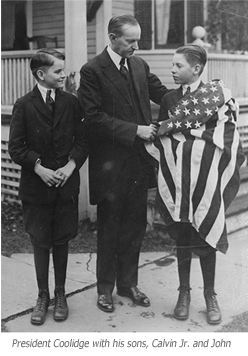 It is very rare for a politician to ask a question that he does not have an answer to. Coolidge was a politician, but much more, and thus no "politician." Coolidge was no casual Christian; the addressee of this question can only be God. Yet Coolidge tells us that he never received an answer. "I do not know why such a price was exacted for occupying the White House." There it is, one little sentence. It is so sudden and so unset in its surrounding, that it would be easy to skip on and not note it. What it says is that Coolidge thought the Lord had punished him for occupying the White House. The connection to his decision not to run in 1928 is stunning; it must surprise all those who do not share his faith; yet it is clear. Had he run for office again, had he won, had he occupied the White House again, Calvin Coolidge would have thought it just for the Lord to take John, his other boy.10 When Coolidge announced that he did not choose to run in 1928, he did not mean he would not if the American people insisted and if the Lord chose him to run.

The contrast with Lincoln, who lost a son in the White House, but proceeded to Gettysburg that week, and did choose to run in 1864, is instructive. Perhaps the contrast measures the virtue of Coolidge, mark its high limit. However, we do not know whether the Lord in the one case purposed Lincoln to persist in office and in the other equally purposed Coolidge to desist. The victory of the Union in the one case may be as in accord with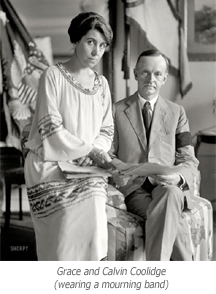 Divine Providence as the Depression and the Second World War were in the other. One may even wonder if Coolidge, the man most able to encourage prosperity and peace, was withdrawn by the Lord from the almost chosen American people because they did not heed his constant teaching, that there is something infinitely more important than prosperity. Perhaps they heard Coolidge's observation "the chief business of the American people is business" as if it were complacent praise, not attending to what completes it: "The ideal of America is idealism."11 In the view of Coolidge and of his teacher Garman, the prosperity secured by progress is the natural consequence of the daily practice of virtue by a Christian people, and yet God in His wisdom can intervene. In the view that the American people elected in the New Deal and after, prosperity is mainly the consequence of a national social government. According to the old deal, "fear of the Lord is the beginning of wisdom." According to the new, the only salutary fear is the fear of fear itself. Perhaps by withdrawing Coolidge, the Lord wished to tempt this people with a choice, to recall them to their true foundation, and, if they did not, to chastise them with the consequences.

VI. Instead of running in 1928, Coolidge wrote his Autobiography. By doing so, he prepared for death. Thus the deaths of others are often mentioned in it. Coolidge's mother died when he was a child, his sister Abbie when he was a boy. During his grandfather's last illness, young Coolidge read the Gospel of John to him, as his grandfather had read it to his grandfather. (No one who appreciates that story can say he does not understand what tradition is.) But the special quality of Calvin Coolidge comes out in a slight addition to another story, of a smithy whom young Coolidge used to assist. "He always pitched the hay on to the ox cart and I raked after. If I was getting behind he slowed up a little. He was a big-hearted man." Quite a few persons could have written those sentences, only Coolidge the next: "I wish I could see that blacksmith again." This man was passionate, and the fact that it only comes out, against his reserve, and then only in a corner, is merely testimony to how very passionate he was.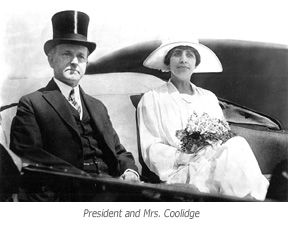 In Shakespeare, in Tolstoy, in Dostoyevsky, the great hearted are always ready to speak what they feel, but some great souls cover their hearts with a dark suit, a right hand, and a dry wit.12

Coolidge is certainly the shyest of our presidents, even more than Lincoln, and of all public men, save Christ, perhaps the shyest. Silent he was not. When he spoke to persons he did not know, they knew he thought and felt more than he said to them. This reticence from depth, be it grief, thought, or peace, they sometimes called silence. Certainly Coolidge had no chit-chat, never called something cute, and even when playing was reserved. A lot of persons liked Coolidge, but I do not believe he confided in any one. I doubt we will ever know. Anyone he chose to confide in would have had the good sense to keep mum. The person who knew and loved him best, Grace Coolidge, did not repeat what he chose to say to her only.

What Coolidge wished the American people to know, he wrote to us. He is one of the few presidents to write his own speeches or to write his own life. Ulysses S. Grant did both and most of his predecessors make you suppose they could have too. Certainly the first six, and later Theodore Roosevelt. Coolidge is one of the last presidents to have done either.13 One wonders how long we can go without another. Teaching school in a land where the chief elected executive does not write for himself and every child soon knows it, is hard, for the teachers and on the children. One of the best ways to measure an era is the quality of the letters. Read them and you will see how many people know their own thoughts and feelings. If they can describe significant events in their lives, then they will understand others as well. This is the true basis of self-government. The fundamental assumption of democracy is that every adult not demented knows enough to make his own decisions. Democracy demands self-knowledge. It requires persons who
understand themselves. The letters back home during our Civil War, the least rancorous civil war in the history of the world, show we once could understand ourselves, and so does Coolidge's Autobiography.

Of Vermont, Coolidge once said, "If the spirit of Liberty should vanish in other parts of this Union and support of our institutions should languish, it could all be replenished from the generous store held by the people of this brave little state of Vermont." I do not know that his assertion remains true of Vermont; self-government lives still in the Town Meetings, but is lately under some duress; but I do say confidently that if Liberty does vanish from these United States, it might be recovered by the people reading this story of an American life and practicing the virtues of its author. Although Coolidge did not run for reelection, the story he chose to write instead gave to the people of America a measure to judge all aspirants to that sacred trust.

Dr. Michael Platt
FRIENDS OF THE REPUBLIC
Michael Platt studied at Deerfield, Harvard (BA), Oxford, and Yale (M. Phil and PhD). Over his career, he has chiefly taught Political Science, Philosophy, and Literature, and at a variety of institutions including Dartmouth, University of Dallas, Philosophic Institute, Germany at Heidelberg, Greifswald, Baylor, Schreiner and The International Theological Institute in Austria, among others. He has lectured widely In the United States, Canada, and Europe for over forty years. His work has been supported by St. Johns College (Santa Fe), the National Endowment of Humanities, and the Alexander von Humboldt Stiftung (Germany). When not teaching on campus, Dr. Platt is a resident of Fredericksburg, Texas. (full bio and other works.)
---
ENDNOTES:
10 In a letter to his father, 23 October 1924, a few months after young Calvin's death and a few weeks before the Presidential elections, Coolidge writes, "I hope this is the last time I shall ever have to be a candidate for office." See Your Son, Calvin Coolidge: A Selection of Letters from Calvin Coolidge to his Father, ed. Edward Connery Lathem (Vermont Historical Society, 1968), pp. 194-195.
11 "The Press Under a Free Government," in Foundations of the Republic (New York: Scribner's, 1926).
12 Consider Dorothy Parker's small-hearted remark upon hearing of Coolidge's death.
13 President Hoover wrote all his important speeches; see his Memoirs, Vol. III, p. 233. (Thanks to Mr. George Nash for this reference.)
Print