Print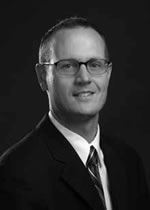 Upcoming Milestones That Shorten the Distance to Our Goals
Message from the President

As we step over the threshold of a new decade, we enter a world that is both unsettling and promising. Amid economic turmoil and an encroaching federal government, we see neighbors, bloggers and organized gatherings of citizens asking what they can do to step up and become the Americans of whom our founding fathers and mothers could be proud. It is exciting to see people across the nation resolve to learn, grow and become more able spokesmen for ordered freedom and sacred liberty.
Last spring I agreed to act as University President for a year as we worked to adapt to these economic challenges, and to ultimately prepare the school for a permanent president with the background and skills necessary to take George Wythe to the next level. Immediately upon taking this post, our team of administrators, faculty and board members began working to accomplish three key things.

First, we sought to expand our reach and accessibility by offering online courses. It was not easy to find a web-based learning platform that would allow us to teach and mentor in our student-centered and Socratic method, but we did. The more we use the online classroom, the more amazed I am by what it can do.

Second, we set up a single online administration program to handle records, enrollment, finances, grades, student progress toward graduation, and even assignment submissions. We had tried something like this in previous years, but the cost of software with these capabilities was prohibitive. Nevertheless, with a monumental effort from our small staff and the help of a number of generous people and organizations, we finally accomplished it, and in May of last year we launched our new Online Services website (OLS). I am pleased to say that it is an excellent program, allowing students to track every aspect of their education at any time. Based on your feedback, we will continue polishing it as we stay current with the newest technology.

Third, we began investigating what it would take to make our course credits more transferable to other schools, but without compromising the precious core of our Statesmanship education. What we discovered was that this could be accomplished with only minor changes in the structure of our courses, and so we began implementing those last Spring. Although we will continue tweaking these enhancements, we've already received a great deal of positive feedback from students, parents, fellow academics and members of the accreditation team which works closely with us as we move nearer to that goal.

Despite many difficulties, we were actually able to complete each of these three tasks that we set out to accomplish last year. If you wonder why you've heard less from George Wythe during this period, it's because we've all been wearing multiple hats as we put this infrastructure in place. Unquestionably, we owe our success to the commitment of many generous people who made tremendous sacrifices. With the quality of the classroom environment as our top priority, we are now poised to move forward to the next three critical goals.

First, choosing a president for a school whose mission is to build statesmen is truly a unique opportunity. At its helm, there is no reason that one should find anything less than precisely that—a seasoned statesman—with a lengthy, life-long history spent exemplifying our very mission. After all, Thomas Jefferson himself founded the University of Virginia during the final years of his life as the capstone of his long and distinguished career of service. Such definitive archetypes are rare, but they do exist in our day as well. These senior statesmen are oftentimes eager to finish out their years in such continued service when they see the difference they can make for the cause of liberty. On the Board of Trustees, we've created a committee to locate such a person who shares our vision and can help GWU truly grow into its full potential. Meanwhile, as one of the interim presidents along the way, it is humbling to help prepare the school for those larger shoes to come, and it is a privilege to serve on this committee. I'm confident that we can finish our preparations for such a president in the near future. When that day arrives, all aspects of what we do at George Wythe will rise to a new scale and urgency—but supported by the solid, steadfast momentum essential for our cause.

Second, to pave the way we must move like never before toward accreditation. It is true that we have been discussing this for several years, but it is also true that we are closer than ever. The process takes perseverance and we have learned from our mistakes. In October of 2008, when an accreditation team visited us for a full week of evaluations, they left us with a 30-page report detailing their observations. They were quite impressed with our curriculum as well as our method of teaching and mentoring. After sitting in on classes, they were frankly shocked at the quality of our student body. "How," they asked, "did you get students like these?" They then left us with a list of tasks that needed to be accomplished in order to advance to the next step. Many of the items on that list have been completed in the past year, including updating our curriculum, streamlining our administrative systems and bringing them into better accordance with academic institutional standards. The remaining items are a matter of daily discussion and focused efforts. Understaffed as we are, this work has not moved as quickly as we would like, but we are making very good progress and are in regular communication with the accreditation team. During their most recent visit only a couple of weeks ago they expressed great optimism in our progress. At this point, success is just a matter of good management, resources and time as we continue checking items off the list.

One major concern of the accreditation agency has been the proposed Monticello campus site. They have increasingly seen this as a division of resources and an impediment to accreditation. In the midst of a once-in-a-century recession, prudent business practice dictates a sober reassessment—to look with fresh eyes and seek honest answers to determine the kind of campus expansion that is truly feasible—especially given the new realities of financial and real estate markets. To do this objectively, we began a feasibility study in January and we expect to complete it in the next few weeks.

Some of the results are already in though, and I can share that much with you here. First, it has become clear that a "full scale" campus simply isn't going to be viable if located in Monticello. One finding is that people everywhere have been hit hard financially and are retrenching long term. Another problem is that even during Utah's population explosion over the last three decades, San Juan County actually experienced a trend of more people moving out than moving in, as well as a consistent decline in its population under age forty. Interview and survey data from the George Wythe community are not showing that sufficient numbers could actually move to Monticello to overcome the area's longstanding population trends in order to support a full campus, especially given the new economy in the foreseeable future. What we're finding instead is that most people are in survival mode where they currently live, and understandably so.

Feedback also confirms that people are most supportive of making prudent decisions, even if difficult. The dream of a full-sized campus with beautiful architecture is universally appealing, but we've found that our supporters are quite content to wait for a better suited time and location if that's what is required by the economy in which we find ourselves. Of course, the architectural plans are independent of time and place, so those can always be revived when and where the realities of the marketplace dictate. But for the Monticello site, preliminary findings indicate that something smaller or different should be explored.

As a result of this research we've decided that the best thing to do is deed back the portion of the Monticello land we were purchasing, and focus the rest of the feasibility study on viable uses of the remaining land donated to us in Monticello. The Campus Building Fund will continue to be used precisely for that type of exploration and development, but with great care and consideration of all factors that impact viability. According to our official Growth Policy, new feasibility studies will always be required for any expansion proposals, and it is simply good business practice to reassess with fresh research in economic times like these. Of course, how our decisions might impact accreditation must always be of utmost importance.

Third, we must redouble our efforts to procure donations and to help well-prepared students across the nation choose to study at George Wythe. The recession has hit every corner of society and we know there are many bright and eager students who only need the solid foundation of a classical liberal-arts education to change the world for the better and move the cause of liberty. Many are simply unaware of George Wythe University and others lack the funds for tuition. Substantially more funding will arrive quite readily once a fitting statesman president is found and an equivalent advisory board is assembled, so preparing the school for that day is the task at hand. Resources focused on this will have a multiplying effect long term. Given GWU's mission, this roadmap and its outcome are predictable and now laid before us.

In order to accomplish these three goals, administration and the Board of Trustees will continue to work very closely, each contributing wherever we can. As we accelerate our preparation of the school, my own efforts will focus increasingly on accreditation in collaboration with our Provost, Dr. Schulthies. Meanwhile, each of us must play our part in becoming citizen-statesmen and safeguarding the liberties we possess. To do so we must strive to be examples of our mission: diplomatic, courageous, virtuous, wise—while seeking to become a source of inspiration to others. May we do so judiciously, humbly, but boldly as ambassadors for the cause of liberty as we begin this new decade, whatever challenges may come.
Dr. Andrew Groft was appointed President of George Wythe University in February 2009 and served until 2010. In the past he served as Provost and as a mentor at GWU. A popular speaker with youth and adults, he has taught, consulted and presented for businesses, schools and academic and governmental forums throughout the United States, Europe, Africa, and Asia.

Print