Print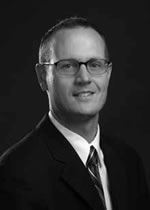 A Message from the President
Dr. Groft discusses accreditation and George Wythe's new tuition prices, curriculum and online courses.
Something seems to be happening in the world. Maybe every generation has felt something similar, but we are surely feeling it now. It's almost palpable, the uncertainty in the markets, in our government, in education, possibly in our own ability to care for our families. While there are some who glimpse the myriad opportunities, many are becoming cynical, frustrated, disenchanted and afraid. I know and associate with a spectrum of people who range from Chicken Little's frantic rants to Pumba's hakuna matata. Neither of these extremes is healthy, but even those in the middle sense the urgency of our time. Something is happening, and many people feel called to do something about it--and they ought to feel that way, because they are.
One thing I know about myself is that I am little; I am weak; I am unimportant; and I am unable, alone, to make any real change in the course of this swiftly moving stream of people and events. But I have come to believe that with God and other good-hearted people of all religions, ethnicities and walks of life, I am big; I am strong; I am important; and my efforts matter. And beyond the din of cynicism and frustration, a seed of hope is stirring in many regular, everyday people throughout the world. If a Renaissance of Kings really is happening, it means that everyday people are realizing that they were born to engage in small but significant acts of greatness. It means that people like you and me are realizing that the opportunities to really live—to suck the marrow of life through building, innovating, thinking, serving, changing, inspiring—are greater, not less, than ever before. If the Renaissance of Kings I have spoken of in the past really is happening--or something like it by whatever name ends up sticking--it means that people realize that the answers to our problems are not going to come from one man, or even a group of men, rather it will come from thinking, feeling people who stop waiting and start doing. No government is going to save us until we decide to start governing ourselves and our families upon sound principles of industry, frugality, creation and love.
So what are you doing? Or maybe more to the point, what have you been thinking you need to do that you haven't done yet? Whatever it is, I encourage you to do it, because when you do, perhaps doing so against great odds, you will be living. And our country, and this world and your family and community will improve because of it. In spite of our best efforts, George Wythe University has made some interesting mistakes over the years. We are not perfect—not even close. But we have a few things going for us that are unique, and that I believe are needed right now. If you will allow me, I would like to talk briefly about three things:
the unique nature of the GW curriculum and methodology as it relates to the challenges of today;
an update on our pursuit of accreditation; and
an update on new GW tuition and programs.
I would like to share more extensive thoughts on each of these topics at a later date, but for now I'll be brief.
Curriculum and Methodology
I have heard it said that America is a highly trained and poorly educated nation. I think I understand that observation more now than I have in the past. "Training" derives from the same Latin root as the train (as in "locomotive") that runs on a track. The root trahere means, "to drag, to pull in a straight line, or to cause to follow precisely." When someone figures out how something works and decides to share that discovery, training is a powerful tool. To become trained doesn't require a lot of innovation or independent thought; it does require focused attention, practice and memorization. Air-conditioning mechanics are trained; surgeons are trained; and the world is better for it.
Education comes into the picture when the problems at hand cannot be solved by mere training. When an air-conditioning mechanic or surgeon finds that a problem persists after exhausting all of the trouble-shooting protocols she was trained to perform, education steps in. She thinks outside the box and solves the problem. The Latin root of education is ex ducere, meaning, "to draw out, to bring forth that which is already there, to cause to be expressed, or to draw out meaning beyond that which is apparent." So an education helps the citizen of a free republic solve problems that he was never trained to handle. He thinks about what he is being told by the media, and remembers civilizations of the past that said similar things, and a Roman leader from Plutarch's Lives whose rhetoric sounds a little too familiar. He remembers an ideal held by a character in Plato's Republic and considers how it differs starkly from both the Transcendental sentiments of Emerson and the Existentialist ideals of Kierkegaard. He wonders what the American Founding Fathers would say about what is going on in the world, and knows that although Hamilton and Jefferson would have disagreed in part, they would have agreed completely in key areas of the debate. He thinks deeply, he thinks broadly, and while his training is helping him earn a living for his family, his education is helping him become more human and more free. Where greater training generally leads to greater wealth, increased education increases freedom, liberty and innovation.
Our society needs both. But whereas most colleges and universities train primarily and educate secondarily, at GW we are addressing the critical need to educate primarily. Using the 5 Pillars of Statesmanship, The Four Mentors, The Three Fundamentals and the critical element of Community ("5-4-3-C"), GW is educating for liberty and innovation. It is something that is desperately needed if the liberty and democracy of a free republic is to withstand the relentless and historically cyclical forces of slavery and tyranny. The unique nature of the GW curriculum and methodology fosters real education and is desperately needed as we face the challenges of our day.
Accreditation
Many have asked about our pursuit of accreditation. Although institutionalized government accreditation has only been widespread for less than sixty years, and although accreditation does not ensure transferability of credits, acceptance of degrees, or quality of the educational program, it has become more important in the information age due to diploma mills that sell degrees with no academic merit for money. GW is not a diploma mill (ask any of our students who have applied themselves here), and we don't trade diplomas for money. We award them for hard work and quality results--the tuition just pays the bills so that we can do this. Still, accreditation will help foreign students come to GW; it will help students gain access to scholarships, loans and grants; and it will help greatly with some aspects of transferability and graduate school admissions. For these reasons, it is our intention to obtain accreditation as soon as possible.
For nearly three years we have been working with the American Academy for Liberal Education (a Department of Education-recognized national accreditation association in Washington, D.C.). This process has been a positive one, and has spurred GW to improvements in our administrative functions and record-keeping systems, as well as in the articulation of our methodology. Much of this process culminated in October of last year (2008) when the peer-review site visit occurred at our Cedar City campus. Professors of several colleges and universities from New Hampshire to California, under the direction of the AALE, spent a week attending classes, interviewing students, mentors and administrators, checking our financial records and closely assessing our programs and practices.
During the welcome dinner the first evening, which was attended by faculty, staff, board members and the accreditation team, many questions were shot our way, hard questions, and we answered them honestly and openly. At one point in the evening one of the accreditors and I engaged in a warm debate over some Aristotelian ideas. The next morning the same gentleman approached me and told me how much he enjoyed our interchange the night before. One of the accreditation team was a professor from Brigham Young University. During the opening dinner, he expressed concerns about a rumor he had heard that the school was a conspiracy school that only studied Cleon Skousen and Oliver DeMille. On the third day, this same professor sat through parts of Mr. Jensen's and Dr. Schulthies' classes, and all of my 3-hour class on Ancient World History. When class was over, this man took me aside, held me firmly by my arm in one hand and my shoulder in the other, looked me squarely in the eyes and said, "What you are doing here is remarkable." He went on to say that he hoped we would be accredited, and that he would do whatever he could to make that happen.
In the months that followed, the accreditation site visit team issued a report of their findings. Unfortunately, AALE prohibits candidates from making site visit reports publicly available or directly quoting these materials until they have achieved accreditation. I will, however, summarize by sharing a few thoughts:
From what I can tell, the site visit went wonderfully. They were very impressed and all of them wanted to help us gain accreditation in any way they could. One site visit member, for example, who oversees the undergraduate honors program at a university with tens of thousands of students remarked, in effect, "you are trying to do with every one of your students what we only attempt to do with the top one percent of our students, and with a fraction of the budget."
The report contained a number of commendations as well as concerns. The site visit team recommended that we fix a few things before we actually submit the report to the committee that makes the final decision. For example, in the past George Wythe has had a stated policy of awarding variable credit for coursework. This means that a student might enroll in a five credit class but only do work worthy of three credits. And so three credits is all the student received. Such a student would take longer to graduate. This policy of variable credit works well with George Wythe's long-standing "oriental" tradition of mentoring in which the student is not considered to have mastered a subject until the mentor says so, no matter how many books have been read or papers have been written. However, it flies in the face of modern academia's strict policy of so-much-seat-time equals so-many-credits. The site visit team expressed concern about our students' ability to transfer credits to other institutions and for our variable credit policy to be understood, let alone accepted by other colleges and universities. We have decided to move to a fixed credit model because we believe the overall benefit to our students outweighs the limitations it places on our faculty, limitations we believe can be mitigated in other ways.
Another concern expressed by the site visit team was that, while they expressed admiration for our methodology (some even expressed a preference for and shared experiences of attempts to do the same in their own programs), the teaching methodology at George Wythe is largely an oral tradition passed from one mentor to another and has not yet been articulated in a succinct, written format whereby a new faculty member could be trained and understand methods and expectations. We had identified this issue early on in the self-study process in 2006 and had worked hard to begin the articulation process. What resulted was The Mentor Syllabus, an 80+ page document we look forward to making publicly available one day, but it is not yet detailed enough to meet the site visit team's criteria.
After reviewing our financials for the past several years, AALE's financial arm determined that our books, while audited and in compliance with generally accepted accounting practices, did not fully comply with the more detailed, industry-specific, non-profit, educational institution standards required by AALE. This in spite of George Wythe spending thousands of dollars over the past several years in tax consultations with licensed professionals who worked with us and assured us we were indeed in compliance with those standards. This was a frustrating and unexpected shortcoming. Also of concern to our accreditors is George Wythe's lack of an endowment sufficient to sustain operations in the face of a catastrophic economic collapse--funds that would allow us to ensure that incoming freshmen could complete their degree program even if all other sources of regular institutional income ceased.
All of these shortcomings can be overcome and are simply a matter of time and funding. Unfortunately, in order to respond to the the economic situation Dr. DeMille spoke of in the January\February issue of The Statesman, our faculty and staff have had to divert time and attention away from accreditation during these past six months. Once these efforts have stabilized and become more self-sustaining we look forward to reengaging our efforts at accreditation. I will keep you all posted.
Changes
Finally, many of you have heard about some of the proposed changes at GW that Dr. DeMille referred to in his letter earlier this year. We have streamlined our business systems so that we can operate more efficiently and with lower expenses, while making our programs more accessible to a great number of students from all over. Many of our plans to expand permanent structures are still viable and I feel are needed in the long term; and although we have slowed the pace on facilities growth, we are bolstering our core programs and will be offering online courses beginning summer 2009. I hope to see many students come experience the magic and rigorous academic atmosphere here on-campus, but I think people will be stunned and amazed when they realize how effective our online administrative and classroom platforms are. It is really remarkable. To name some of the functions, students will be able to:
apply for degree programs online,
register for courses online, view their transcript, and see what classes still need to be taken to complete their degree program,
upload all of their assignments online, receive mentor feedback and grades, and retain an electronic copy of all coursework,
attend lectures, discussions and colloquia in an online virtual classroom,
access videos, PowerPoint presentations, whiteboard functionality, and file sharing in the online classroom,
display and discuss pre-selected quotes from their readings on the screen so the whole class can read along,
access recordings of online classes for review, make-up and assessment.
The online admissions and registration functionality will be available in late May. The online classroom functionality will be put in use starting May 18. when our summer semester begins. See the related article in this issue of The Statesman for more information on the Summer 2009 semester and the special tuition rates we are making available to students who will be asked to provide us with valuable feedback on this first online semester.
We have reorganized our curriculum to improve transferability between our on- and off-campus programs and make course loads more manageable, especially for our part-time students. Specifically, we have divided the courses with heavier workloads so that nearly every course is now either two or three credits. The curriculum is available online for our undergraduate and graduate programs, including course descriptions and readings. Similar changes are underway in our doctoral program and will be made available for Fall 2009.
Also, most of our students will notice a decrease in the price of tuition. On-campus undergraduates, for example, will now pay less than $3,000 per semester, down from nearly $4,000 for students earning the merit scholarship (which will no longer be offered). An online graduate student taking two or three classes (six credits) will pay $1,450, down from $2,000. For more information about our new tuition rates please visit our website.
These are just a few of the changes that will facilitate a high-quality educational experience to more people than ever before - and build the statesmen that this world needs so badly. In the next few weeks I plan to make available a presentation showcasing the new curriculum, administrative systems and online classroom. We will have answers to frequently asked questions as well as video tutorials to help answer any concerns you may have. I can't wait for you to see it all!
Finally, I want you to know that Dr. DeMille and I, as well as our faculty, staff and Board of Directors, are committed to strengthening GWU. Will you help us? There are five primary things you could do to help move the cause of liberty right now through GW.
Enroll - Enroll in a degree program, or get going again on a degree program that has been neglected for a time. It will change your life for the better. It will equip you to be a better human being and a more able advocate of liberty, humanity and creation.
Share - Tell a friend about us. There will be numerous free downloads on our website starting this summer. Share these things with friends; and ask them to take a class with you. Give us the opportunity to do what we do best—build men and women of virtue, wisdom, diplomacy and courage who inspire greatness in others and move the cause of liberty.
Donate - Your donations are tax-deductible and I promise you that we will use them wisely. As part of this, will you please consider coming to our Fundraising Gala at the Utah State Capitol with Glenn Beck on May 30? We need your support. And even if you can't make it to the Gala, you may consider purchasing a seat anyway. If the price of a ticket is more than you can afford at this time, please consider donating as little as $75 before May 5th to be listed in our Remembrance Book which will be given to our guests at the Gala. Or donate a little more and use a portion of a page or a full page in the book to promote your own mission or business to our 500 guests which include corporate, community, and political leaders in Utah. The deadline is Tuesday, May 5th to be included in the book, so take a minute to visit our Gala website for more information on donating or attending.
Pray - I believe in prayer. Pray for Oliver and his health. For those of you who don't know him well, let me tell you that he is the real thing. A good man. He is kind, humble, easy to work with and for, full of profound insights and keen understanding, eager to learn and ready to be taught. His integrity is of the highest order, and his intentions, I believe, are 100% unselfish and good. Pray for him. Pray for me as I grow in this new responsibility as President of George Wythe during these difficult yet hopeful times. Pray for our faculty, staff and board. Pray for the students who are trying so earnestly to live up to the sense of purpose they feel in their education and their lives. Pray for yourself, that you will have the courage to do what you were born to do, knowing that GW is here to help where we can. Pray.
Be patient with us - During the past several months we have been working long and hard to adjust to the demands of the changing economic environment, and we have been doing so with significantly reduced staff. We are not at present as responsive as we want or need to be to admissions and course registration inquiries. We sincerely apologize for this. Please be assured that your requests have not been misplaced or disregarded, we've just been working feverishly to formulate these new processes and policies so your questions can be answered clearly and accurately. Be patient with us, review the new website content that is now available, and know that we will respond to your inquiries as quickly as we can.
George Wythe University has a responsibility to past and future generations to play a role in moving the cause of liberty. I believe you will be pleased with many of the changes we have made to our ability to serve you and to live up to that responsibility. It is my hope that our combined efforts will make the world a better place, and sculpt us all into better moms and dads, better businessmen, better public servants, better teachers and learners, better advocates for freedom, better statesmen.
Warmest Regards,
Andrew J. Groft
President
George Wythe University
Dr. Andrew Groft was named president of George Wythe University at a meeting of the George Wythe Foundation board of trustees in early 2009 and served until 2010. At the time of his appointment he was serving as President of the Cedar City campus of George Wythe University. In the past he has also served as Provost and mentor at GWU. A popular speaker with youth and adults, he has taught, consulted and presented for businesses, schools and academic and governmental forums throughout the United States, Europe, Africa, India and Asia.
Print