Print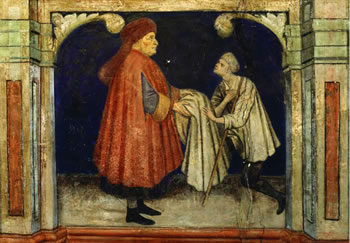 Can You Say Philanthropy?
By Laney Cheney
One of GWU's long-time supporters said to me recently, "I don't know why you include me on your donor list. I've never thought of myself as a donor." He may not be to George Wythe what Warren Buffett is to the Bill and Melinda Gates Foundation; but he has given several donations over the last four or five years. So I was surprised he didn't think of himself as a donor and wondered how many other donors don't know they are one.
His statement made me wonder: what is a donor? Or an even better question: what is philanthropy? Take a minute to think of your answer—do you really know what it is? I had to laugh at some of the answers in the following clip, courtesy of the Minnesota Council on Foundations:
So, what is philanthropy? It is feeling love for humankind, seeing the needs of humanity, desiring to lift burdens, and sacrificing to see it happen. Whether you choose to call it philanthropy, public virtue, the golden rule or charity, if you love mankind and strive to help through giving time, talents and treasure, then you are a philanthropist.
The season of giving is upon us! Despite our current economy, or maybe even because of it, the need for philanthropy remains strong. Many worthy causes need you and me to donate time, talents and treasure to feed the hungry, clothe the naked, liberate the captive, educate the ignorant, and spread beauty.
If the mission to build statesmen is your passion, make it a priority this month to give time, talent, or treasure to moving it forward. Read a classic on your own or to your children. Talk to a friend about liber education. Continue in your application of liber education. Donate for an inscribed Brick. Join our monthly giving program. Start a blog. Find a mentor.
Whatever you do, don't miss the opportunity this month to find the cause that moves you and give all you can to push it forward! Whether giving all you can means volunteering one hour a month or 20 hours a week; donating $10 per month or $50,000 per year; or joining a board or just sending your suggestions to your favorite organization—then do it! The world needs philanthropists—and thankfully you don't have to pronounce it correctly to be one!
Laney Cheney is Vice President of Development at George Wythe University. She can be reached at (435) 586-6570 or lcheney@gw.edu.
Print