Print
Summer Classes at George Wythe College-Monticello
Summer classes began at the Monticello, Utah Campus on May 20th. Two Extension classes are being held this semester; ST101B, a freshman level government course and PS607, a master's level political science course. With the arrival of wonderful weather, we kicked-off this term with the first class to ever be held on the actual site of the GWC Monticello Campus.
Pictured are Denise Frost, Blen Freestone, Jane Frost, Charles Redd, Sonni Redd, Lana and Ricky Authur, Nicole Perkins, LaRae Black, Larry Sorrell, and Michelle and Doug Harkey, participants in the first class held on the campus grounds.
After a University Vision PowerPoint presentation and a quick tour of the pavilion and pond areas, the class settled in on blankets and camp chairs under our new pavilion to begin an evening of discussion and lecture. Graduate student Michelle Harkey said, "it was fun to watch members of the class get a sense of the vision of this future University. I overheard some students talking about the great vision and drive of George Wythe College. They were truly impressed!"
Dr. Shanon Brooks, George Wythe College CEO and local GWC Mentor, welcomes questions – especially from Monticello residents – at his office in the Hyland Hotel. Interested parties are also welcome to email him here.
George Wythe College has also joined with a local radio station and is broadcasting a weekly program called the George Wythe College Hour. To join in, tune in Monday mornings at 7:30am to KAAJ-LP, 103.9 FM in Monticello and surrounding areas. Visit us on-line at http://www.gw.edu/misc/radio/ to see upcoming program topics and listen to previous broadcasts.
Youth for America, a youth summer conference program in its 13th year (7th with George Wythe College, made it on the scene this summer as well. Thirty YFA students attended their regular session of YFA (level 4) at the Monticello campus site. (Click here for related story.)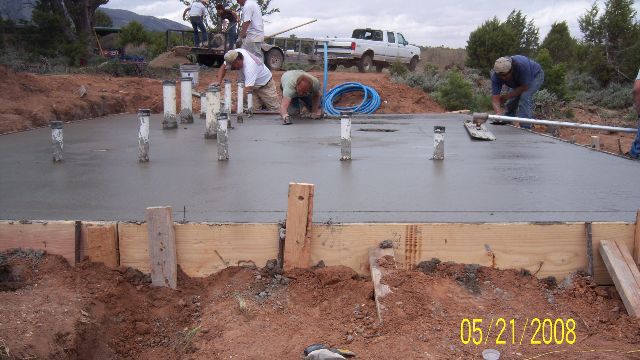 Workers from Tri-Hurst Construction, Inc. are pouring the concrete slab of a 10-stall restroom facility located on the events area of the campus.
This is shaping up to be a very active summer for GWC in Monticello. Don't forget the Campus Ground Breaking Ceremony in August GWC Ground Breaking. We'll see you there!
Print