Print
GWC Acquires Reception Center in Monticello
George Wythe College is pleased to announce that it has entered into a lease agreement with the owner of the historic Hyland Hotel in Monticello, Utah. This handsome property and grounds will serve as the George Wythe College Reception Center at the Monticello Campus. Initially, the college plans to hold Extension classes and community-wide seminars and gatherings at this location. By fall 2009, a full on-campus program will be in operation in Monticello.
This building is listed on the National Register as a Utah Historic Site. According to the Utah Division of State History, this home was constructed by Joseph Henry Wood between 1916 and 1918 in the Arts and Crafts style of wood and sandstone quarried from a site near South Creek four miles southwest of Monticello. The stone cutting, dressing and laying was supervised by Ed Thompson. The interior doors, panels, wood trim, and exposed beams are dark-stained California Fir that was shipped to Thompson, UT by train, and then brought to Monticello by wagon. Henry and Lillian Wood lived here with their six children until 1923.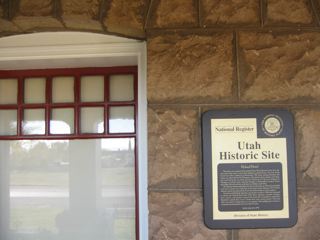 The Fletcher Hammond family moved into the home in 1924 and remodeled it for use as a hotel, one of the first in San Juan County. Between 1933 and 1936 Jack Neilson owned and operated the hotel and a dairy business on the property.
Kenneth and Elizabeth Summers moved here on July 4, 1936 and continued to operate the Hyland Hotel until 1974. Many salesmen, scientists, businessmen, tourists, and teachers enjoyed the home-like atmosphere inspired by Elizabeth's outlook that it was "a home first, and a hotel second". The front office was used by visiting doctors to see patients. This building also served as a community gathering place for more than 50 years.
George Wythe College is proud to announce this outstanding addition and hopes to purchase the property pending the necessary financial backing. To see photos or for additional information please refer to our website at http://www.gw.edu/philanthropy/campus/hyland.php.
Print