Print

What Defines GWU Today?
by the Board of Trustees
With the American Revolution well underway in 1778, the most pioneering and ambitious state among the colonies, Virginia, had yet again revised its constitution. This time its General Assembly was in the midst of restructuring their court system. Once enacted, the Assembly initiated a search to find judges for its highest court. Only the foremost attorneys in Virginia were considered. According to Nathaniel Tucker, few attorneys of the day had all of the qualifications necessary, for "Integrity and talent were abundant, but a learned lawyer was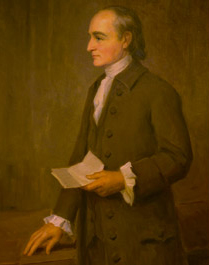 indeed a rara avis." George Wythe, however was "the one man in the state who had any claims" to meeting all of these qualifications.

Recruiting Wythe to step up in a time of need was not unusual. When the College of William and Mary sought to fill their first Chair of Law, the obvious choice, in fact the only choice, was George Wythe. W. Hamilton Bryson stated, "It is difficult to conceive that anyone more acceptable, more appropriate, more competent, or more scholarly could have been found; no one else was considered."

Even though Jefferson counted Wythe among the most ardent leaders of the revolution, his demeanor was particularly calm, with lucid reasoning that pierced more deeply and firmly than that of his peers. Having served in the Second Continental Congress until December 1776, despite making few speeches he cultivated many friendships and wielded much influence. John Adams was greatly impressed by Wythe's legal abilities, while Dr. Benjamin Rush of Philadelphia thought him "[a] profound lawyer and able politician. He seldom spoke in Congress, but when he did his speeches were sensible, correct and pertinent. I have seldom known a man [to] possess more modesty, or a more dove-like simplicity and gentleness of manner."

With this example before us, what defines the university that bears his name today? It is anchored to the legacy of the man George Wythe himself—his historic role in moving the cause of liberty, his commitment to his students, his example of character, humility and integrity. His noble life is a tribute to his own mentors and shines forward in time to us, exemplifying the best preparation for service from the ageless tradition of classical liberal arts education.


Mission and Vision
In 1995, a Franklin Covey associate by the name of Ken Krogue offered to help the fledgling George Wythe College draft a new mission statement. That summer, Krogue led the first of a handful of special retreats for committees of George Wythe College students, admin, faculty and advisors for that purpose. Krogue had been a student of the renowned Dr. Chauncy Riddle, philosophy professor at Brigham Young University, who left a lasting impression with his Socratic teaching style. He had particularly been impressed with Dr. Riddle's focus on developing the four facets of the human being – heart, might, mind and strength – as described in scripture and philosophy through the ages. From discussions led by he and fellow Covey associate Shawn Ercanbrack, these four facets were reinterpreted into virtue, wisdom, diplomacy and courage and thus was born the concise verbiage that has guided the increasingly tailored focus of the school ever since: To build men and women of virtue, wisdom, diplomacy and courage; who inspire greatness in others and move the cause of liberty.

From one particularly committed student came the idea of reciting it before class. This tradition continues to this day. Any GWU alumnus anywhere on earth can likely repeat it from memory. This noble mission is not the product of any single person; its value and mandate are timeless. For students, alumni, and the educations they received, the words are as true now as before, if not more so.

Setting and safeguarding the vision and mission are central responsibilities of the Board of Trustees. This is true of any non-profit organization and is a duty even required by law. Since the Board's formation many years ago, our guiding vision has been embodied in an even shorter statement: Good government everywhere.

If you've been a student or supporter of the school for any length of time, you'll notice that this focus hasn't changed. It is the same vision and mission we have always known. The only change is that with each new school year our degree programs have grown more focused toward this purpose. This actually began back in 1997 at the proposal of a graduate who had just joined the faculty – resulting in narrowing our focus from several undergraduate degrees to a single one. Since 2009 this sharpening has rapidly accelerated to concentrate even more on the key battlefronts of freedom. This strategic enhancement, however, in no way substitutes for a student's foundation in principle as learned through the classics. As always, that is where students continue to spend the bulk of their time.


Mentoring in the Classical Liberal Arts
We believe that the most effective way to achieve the mission and vision of George Wythe University is through the classical liberal arts. This approach is both ancient and enduring as it continues to produce great thinkers and leaders in our day the world over. Our enhanced Great Books program is challenging, timeless and built upon the classical canon of Western Civilization. It is grounded in the self-discipline and temperance that come from a respect for Natural Law, and crowned in the wisdom gained through rigorous simulations and real-world application under the guidance of a committed mentor.

In essence, this was the education that Thomas Jefferson and his peers received at the College of William and Mary and under the tutelage of George Wythe. It is the approach that John Witherspoon used with his students at what is now Princeton when he mentored James Madison. It is the tutoring in classical thought that C. S. Lewis received at Oxford, and that Clarence Thomas received at Holy Cross, at Yale, and from his mentor Thomas Sowell. It is to join the Great Conversation of the ages wherein principled leaders learn the hard won habits of how to think, why liberty is essential, and how to grapple with the most vital questions and dilemmas of human life. Likewise, students with desire and determination continue to experience this rigorous and exciting challenge at George Wythe University--laying the foundation for a rich, satisfying life of contribution, service and leadership.


Key Distinctions
While we share much in common with other classical liberal arts colleges, what sets us apart is our focus on good government everywhere, and preparing our students for leadership in moving the cause of liberty. To this end we constantly examine our mentoring, simulations, internships and curriculum to determine what ought to be strengthened and honed. Now that we are located in a capital city, the opportunities for richer simulations and internships are dramatically improved, as is the availability of qualified mentors.

Over the years we have also strengthened the coursework by adding more primary texts, as well as more tactical resources for students such as fortification in ethics and, beginning last semester, the close observation of lawmaking at the State Capitol to enhance key relevant courses. As stronger source material is added, items are only removed that occasionally become redundant in the process. Over time, this continuously tailors our degree programs for advancing the cause of liberty by means of a classical liberal arts education—one through which each student can prepare with a sense of mission for his service to mankind.


Our Mandate
Our degree programs are designed to produce leaders who possess the foundation and characteristics needed for good government. Oftentimes that leadership requires doing difficult things and making painful but right choices. While resisting the fall of the Roman Republic into Imperial hands, Cicero and Cato the Younger surely experienced more anguish than most leaders in history. Yet each was resolute to make the hard decisions they knew were right. Little did they know that they would inspire an even greater republic centuries later. Other times that kind of leadership can mean standing firm against a rising tide of dependency, as did Calvin Coolidge in the 1920s. This strength of character, coupled with the capacity to influence, is vital toward building a certain kind of leader. We call them statesmen.

As in previous years, our mandate continues to be Building Statesmen. Although the definition of statesman primarily denotes a distinguished life of leadership and service in government, it can also include those who spend their lives influencing its form, policies and decisions in other ways. Indeed, the greatest achievements of important contributors to the cause of liberty such as Thomas Paine, Alexis de Tocqueville, Harriet Beecher Stowe, William Wilberforce, Alexander Solzhenitsyn, and many others, transcended the actual holding of public office. Still, their commitment, sacrifice, engagement, wisdom, skill, and diplomacy exceeded that of the ordinary citizen. Their impact on society, government and the cause of liberty continues to be profound. While the designation of statesman is also frequently reserved until after one's death, the study of statesmanship is utterly worthwhile. Done without ambition, it both inspires and humbles each student. Our premise is that upon the soil of one's good character, the foundation for such a life of sacrifice and selfless commitment can be laid over the course of a vigorous liberal arts education. The rest takes a lifetime. Again looking to how the school's namesake was remembered:
No man ever left behind him a character more venerated than George Wythe. His virtue was of the purest tint; his integrity inflexible and his justice exact; of warm patriotism, and devoted as he was to liberty and the natural and equal rights of man, he might truly be called the Cato of his country.

Part 2: What Has Changed at GWU?
Print